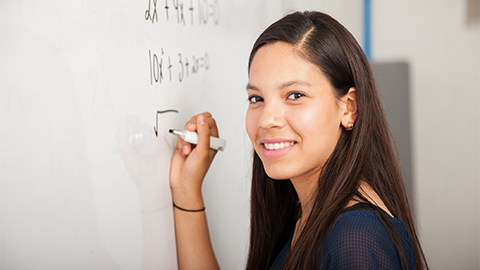 Soon hundreds of rural Arizona high school students now have access to the advanced curriculum and instruction needed to prepare them for success in college and careers thanks to a new partnership aimed at closing the rural education gap. 
Helios Education Foundation – in partnership with the Arizona Department of Education, Arizona State University and seven rural school districts – has launched the Arizona Student Opportunity Collaborative.
The goal is to increase access to higher-level math, science and advanced-placement courses in rural school districts, where students are at a disadvantage compared with many of their urban peers when it comes to advanced coursework. The project also aims to improve instruction in basic high school courses, such as Biology and Algebra II, by providing updated curricula and highly qualified instructors.
"Our goal is to ensure every rural Arizona student has access to rigorous, up-to-date curriculum and instruction in every course needed to prepare them for success in college and on the job," said Paul J. Luna, President and CEO, Helios Education Foundation. "As we bend the definition of the traditional classroom through this program, we will continue to build a network of teachers and a catalog of course material so that every rural student, regardless of where they live, has the same access to education as their urban peers."
Through this pilot program, hundreds of rural Arizona students will have access to rigorous curriculum and instruction in courses. A planned statewide rollout in the fall 2020 will ensure all rural Arizona students have access to these courses.
The Arizona Student Opportunity Collaborative allows students to take courses via a network of hybrid classrooms, using commercially available services like Zoom or Skype, with highly qualified teachers instructing students both online and physically present in their rooms. Courses are now being developed on a Canvas platform so that students can access the materials at any time, regardless of different school's bell schedules or conflicting class times.
The idea is to eliminate local barriers and provide access to critical coursework through technology and a growing network of innovative teacher and school partnerships. Arizona schools are facing a shortage of teachers in all academic areas, but especially in higher-level math, science, and advanced-placement courses. This problem is especially felt in rural communities.
At the same time that many schools are finding it difficult to fill certain positions, highly qualified teachers around the state are underutilized. AzSOC is working to extend those teachers' reach so that more students benefit from their experience and advanced educations.
"Every student in Arizona, regardless of ZIP code, should have access to the courses they need to be college and career ready," said Superintendent of Public Instruction, Kathy Hoffman.  "The Arizona Department of Education is proud to be partnering on the Arizona Student Opportunity Collaborative to ensure students in rural communities have the same educational opportunities as students in our urban communities through our state."
Some of the rural communities/districts represented in the pilot program include:  Ajo Unified, Camp Verde Unified, Prescott Unified School District, Humboldt Unified School District,  Show Low Unified, Miami Unified, and Ray Unified.  
"We are grateful for the partnership and support of Helios Education Foundation, the Arizona Department of Education, and Arizona State University in supporting this collaborative," said Glen Lineberry, Principal of Miami Junior-Senior High School in Miami, Arizona.  "We are focused on ensuring our students are college and career ready and that includes providing them with the academic rigor that they will need for future success."