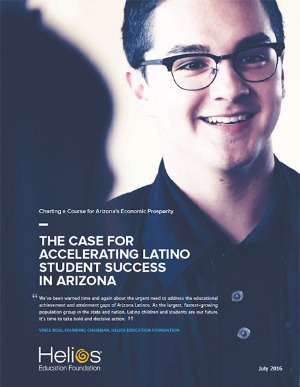 Overview
This brief was produced to examine the need for accelerating Latino student success in the state of Arizona. As a whole, the Latino population is the fastest-growing population in Arizona; however, at the same time Latinos are underrepresented in postsecondary attainment. In order to stay economically competitive both here in the United States as well as globally, Arizona must take giant steps to improve the academic achievement of Arizona's Latino students.
Our research draws attention to the fact that, as the economy grows, Latinos are often underrepresented in the highest-growth occupational sectors, especially those that require an associate degree or higher. Using data from the U.S. Bureau of Labor Statistics, we examine the growth areas in Arizona that offered wages at or above the state median. The analysis reveals that there are 162 high-growth jobs in the state's highest-growth occupational sectors. Among those high-growth jobs, Latinos are only proportionally represented in five, and, of those five, the minimum educational requirements were either a high school diploma or a postsecondary degree. 
Our research also highlights Arizona's ongoing demographic shifts. For example, in 1980 Latinos accounted for roughly 16 percent of Arizona's population; in 2014 they accounted for approximately 31 percent. When compared to Whites, for example, Latinos now make up a larger proportion of the Arizona population from birth to 44 years old. At the same time, these shifts have especially been prevalent among the younger Latino population, with Latinos making up the largest demographic group in Arizona public schools (45 percent). 
While data on future economic opportunities for Arizona are positive, the biggest challenge our research reveals is how well the state prepares students for college and careers. From the onset, Latino students seem to be at a disadvantage, especially to their White classmates. They are less likely to attend a high-quality preschool; less likely to be proficient in reading by 4th grade (see National Assessment of Educational Progress results); and less likely to be college and career ready (see Arizona ACT results). The cumulative effects of these gaps in educational achievement have no doubt had an impact on Arizona's overall postsecondary attainment and, without bold action, will continue to negatively impact Arizona's economy. 
Helios Education Foundation aims to improve access, equity, and achievement for all students across the birth-postsecondary education continuum, but with the state's shifting demographics, we are focused on ensuring more Arizona Latino students complete two- and four-year degrees and enter the workforce with the skills necessary to obtain high-demand, high-paying jobs. In order to achieve these goals, we have identified four broad strategies that are part of our Latino Student Success Initiative.
The four strategies are: 
Strategic Investments 
Building and Reforming Systems 
Building Public and Political Will 
Collaborating and Convening 
The goal of this report is to inspire a call to action among Arizona's stakeholders so that we can chart a course to prosperity by ensuring that EVERY student, regardless of gender, race, ethnicity or zip code, has the opportunity to receive a high quality education that will prepare him or her for college and career.