Ready Now Yuma: Assessing Changes in College-Going Culture and Student Outcomes from a Five Year Comprehensive School Reform Initiative
Overview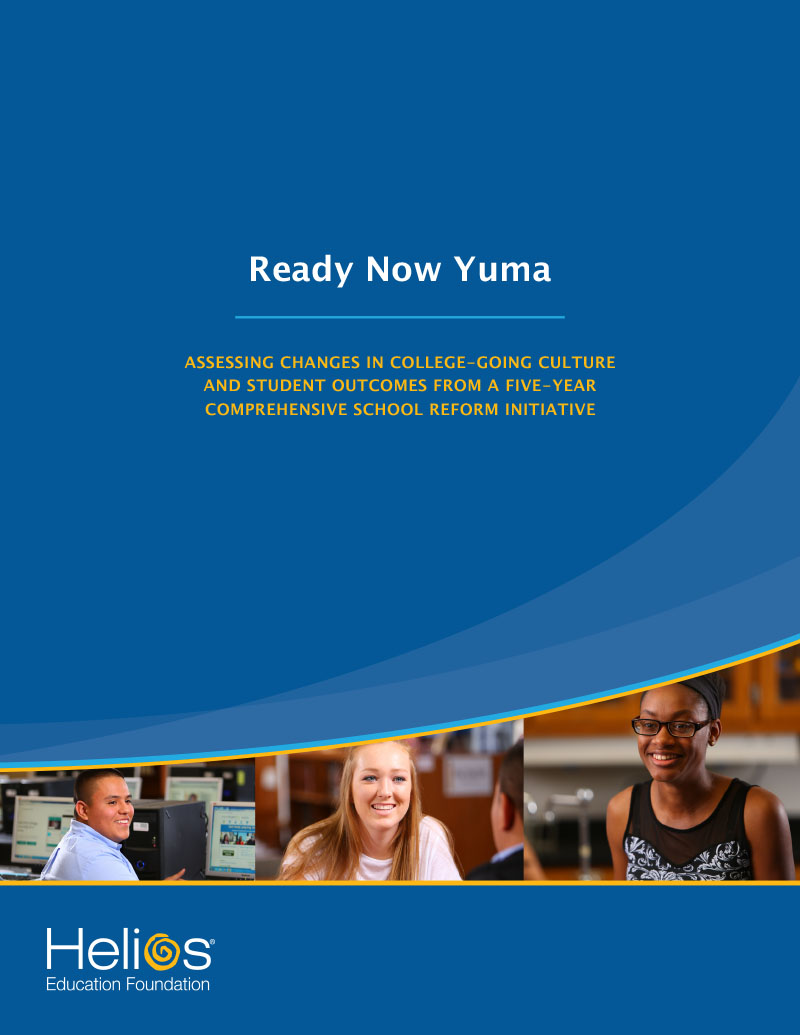 According to the most recent release of the National Assessment of Educational Progress report, (NAEP) only 37% of our nation's 12th graders score proficient or higher in reading, while only 25% do so in mathematics (National Center for Education Statistics, 2015). Similarly, the most recent report from American Collegiate Testing (ACT; 2017) showed that 33% of the class of 2017 failed to meet the benchmarks in any of the core subject areas (English, math, reading, and science). Considering the importance of academic readiness for success in college and career, a critical question must be answered: How can our communities better prepare students for successful lives after high school? 
To begin to answer this question, Helios Education Foundation (Helios) selected community partners in the state of Arizona to implement a new comprehensive high school reform initiative. Beginning in 2010, Helios awarded the Center for the Future of Arizona (CFA) a $450,000 grant to: (a) identify a district to demonstrate an equitable whole-school reform model and (b) collaborate with Helios and the chosen district to develop an innovative, comprehensive, and sustainable initiative to prepare all students for college and career. Ultimately, CFA and Helios pursued a community partnership with the Yuma Union High School District (YUHSD), located in a small city in Arizona on the border of California and Mexico. Guided by the strategic plan created in partnership with CFA, Helios awarded YUHSD a total of $6,040,000 to implement the initiative, entitled Ready Now Yuma, over the course of five years. Funds within that amount were also earmarked for evaluation of implementation and overall impact. 
The Ready Now Yuma initiative was comprised of two primary objectives: 1) create a college-going culture in Yuma, Arizona, and 2) prepare all students for college and career. The goal of this brief, which is divided into five sections, is to analyze the extent to which Ready Now Yuma successfully met these objectives. In the first section, we describe the Ready Now Yuma initiative and its core components. In the second section, data collected from external evaluators are used to determine how successful YUHSD was at creating a college-going culture.1 Third, we examine influences on student outcomes and student achievement. In this section it is important to note that we looked beyond standardized test results and also measured changes in course passage rates, grade point averages (GPAs), and college going-rates, for example. Fourth, we examine key challenges to implementation and how Yuma is addressing those moving forward. Finally, our fifth section lays out our overall conclusion and recommendations for educational leaders and policymakers. 
We advise the reader that this document is not intended to analyze every aspect of Ready Now Yuma. Instead, this document along with its precursor, Preparing Students for College and Careers: Early Findings From the Implementation of Ready Now Yuma, are meant to synthesize key findings to provide educational leaders, policymakers, legislators, and community partners with the knowledge necessary to equitably improve college and career readiness. 
It is our hope that this brief will act as a call to action among education leaders, legislators, and the public to ensure that every student, regardless of gender, race, ethnicity, or socioeconomic status, is prepared for postsecondary education. We hope that these leaders will take the recommendations outlined in this brief to improve opportunities for all students in Arizona. 
Report PDF