Persistence Matters: Examining Relationships Between College Readiness, Ethnicity and Postsecondary Persistence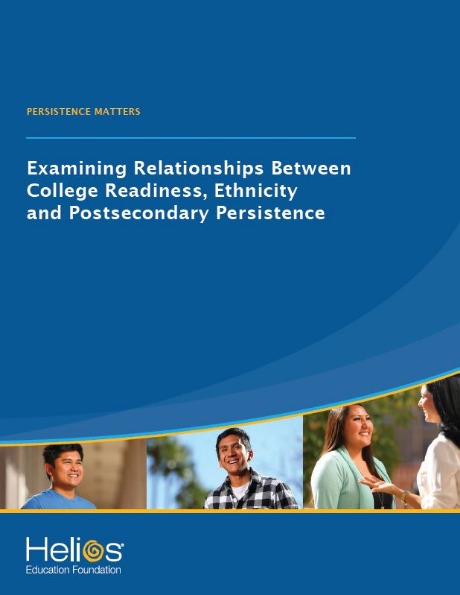 The state of Arizona is at a critical juncture in determining its economic future. Currently, only 38 percent of Arizona's population holds an associate's degree or higher. For the Hispanic population, Arizona's fastest-growing demographic, this number is even lower. Yet, according to the Georgetown Public Policy Institute, more than 68 percent of Arizona jobs will require at least some amount of postsecondary education by the year 2020 (Carnevale, 2015). Considering the importance of postsecondary education attainment, a critical question must be answered: How can Arizona increase postsecondary access, persistence, and completion among all students as a means of ensuring economic prosperity and future viability?
One of the most obvious answers is to increase state and federal funding in support of education. And while policymakers, researchers, and educational leaders will agree that school finance is a key component to educational success, many would also agree that it is not the only piece to the puzzle. Instead, the focus should be on promoting high-quality educational programs that strive to increase overall access, persistence, and completion. Successful programs must integrate a rigorous pre-K through 12 curriculum with supports that help students navigate financial aid, career planning, and other barriers that may impact a student's ability to complete a postsecondary education.
Helios Education Foundation (Helios) is dedicated to conducting research that seeks to answer questions like the one above. Helios focuses on investing in initiatives across the education continuum, with the goal of ensuring that all students graduate from high school ready for college and career, eventually going on to complete a high-quality postsecondary degree or certificate.
The basis of the work that informed this policy brief came from a Helios initiative, College Knowing & Going (CKG)1, which works to increase the number of students who are prepared for and who complete postsecondary education.
By examining college access for a cohort of students who participated in CKG, we can better understand the extent to which these students matriculated to college and whether they persisted after their first year. In this context, the term persisted refers to students who returned to college at any institution for their second year. Given the fact that Hispanics and Non-Hispanic Whites comprise a large majority of the state's population, findings are summarized according to these two groups. We hope that policy leaders and educational experts will use the findings from this brief to promote strategies and interventions designed to increase the postsecondary attainment for all Arizonans.