Overview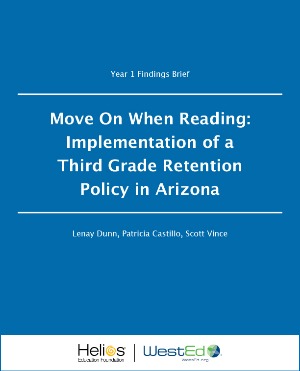 Third grade is often referred to as a "critical point" (Coffman & Kauerz, 2012, p. 3; Hernandez, 2012) in a student's academic development, marking the student's transition from what has been called learning to read to reading to learn (Snow, Burns, & Griffin 1998). Accordingly, policymakers across the United States are designing statewide policies to address third grade reading achievement. In 2010, Arizona's legislature created Move On When Reading (MOWR), a policy requiring schools to retain third grade students whose reading scores on the state test are within the lowest performance level. MOWR was modeled after a similar policy in Florida, and several other states have adopted or are considering adopting third grade reading retention policies (Miller, 2014). 
Under MOWR, students who demonstrate a certain level of proficiency — specifically in phonological awareness, phonics, fluency, vocabulary, comprehension, and writing — move on to fourth grade. Students who do not demonstrate this proficiency are identified for retention, and MOWR outlines four types of interventions for these students: assignment to a different third grade teacher for reading instruction; summer school reading instruction; extended school day during regular academic school year; or online reading instruction. 
MOWR was passed in 2010, and the portion of the policy that affects student retention in third grade first took effect in spring 2014. Initially there were two categories of students who were exempted from the policy's retention requirement: students who were receiving special education services and whose Individualized Education Program (IEP) team agreed that promotion would be appropriate; and English Language Learners (ELL) who had had less than two years of ELL instruction. Amendment SB 1461, passed in March 2015, added exemptions for students who are in the process of a special education referral or evaluation and students who have been diagnosed as having a significant reading impairment, including dyslexia. In 2015, the retention portion of the policy was not enforced because Arizona was transitioning from Arizona's Instrument to Measure Standards (AIMS) to a different statewide achievement assessment, AzMERIT. 
With the support of Helios Education Foundation, WestEd is conducting a two-year study of MOWR implementation by documenting how five school sites within five different districts in Arizona are implementing the policy. This study does not aim to assess the effectiveness of MOWR nor to generate generalizable findings about the policy; rather, it aims to contribute to the understanding of the context of the policy's implementation by documenting how a sample of diverse schools and districts are implementing MOWR. Policy implementation is important to document because implementation can influence a policy's effectiveness (Pressman & Wildavsky, 1974; McLaughlin, 1987).
Article PDF