Lessons From Florida's Third Grade Reading Retention Policy and Implications for Arizona
Overview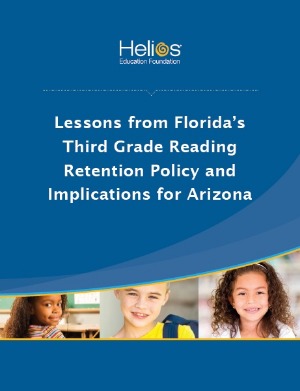 It is generally accepted that third grade is a critical pivot point for reading proficiency. More than a decade ago, Florida led the nation in implementing a policy that required that struggling readers be retained in the third grade. Evidence of Florida's success has spurred replication across the country, despite vocal opposition at times, from parents and child advocates.
In 2010, Arizona adopted a retention policy, called Move On When Reading (MOWR), modeled after Florida's policy, impacting retention decisions for Arizona's third graders starting in 2014. And yet, success in Arizona is not guaranteed due to important differences between the two states, continuing debate about what truly accounts for Florida's success and key implementation choices that Arizona still has to make. Forthcoming studies supported by Helios Education Foundation seek to expand the emerging research base by examining Arizona's implementation of MOWR and by conducting follow-up analysis on Florida's policy. 
BACKGROUND 
Practitioners, policymakers, researchers and philanthropists agree that third grade is a critical pivot point in which children go from "learning to read" to "reading to learn." Children who do not read proficiently at this point tend to fall behind and are four times more likely to drop out of high school than their reading-proficient peers (Hernandez, p.4). The long-term, negative consequences reverberate through families, communities and the nation in terms of lower individual earning power, lost economic productivity and reduced global competitiveness (Fiester, p.9). The importance of third grade reading proficiency has provided a rallying point for many in the field of early childhood education and the rationale for Helios Education Foundation's investment approach in its Early Grade Success portfolio. 
Controversy has erupted as policymakers in a growing number of states responded by passing legislation that require the early identification, remediation and retention of struggling readers in early elementary years (Education Commission of the States, pp. 4-5). The lightning rod in the debate is the mandated retention of students who struggle in reading by the end of third grade. Proponents of the laws argue that the past practice of social promotion—based on age and not academic achievement—sets students up for failure, and the additional year(s) in third grade can give retained students extra time to build the foundational skills necessary for future success.
Supporters thus claim that the retention policies have ended social promotion, replacing it with "literacy-based promotion" (Foundation for Excellence in Education, p.5). Critics decry this solution, citing evidence that retention also has long-term consequences, including higher dropout and lower graduation rates (Jimerson, p. 433; Powell, p.2).
Article PDF