Overview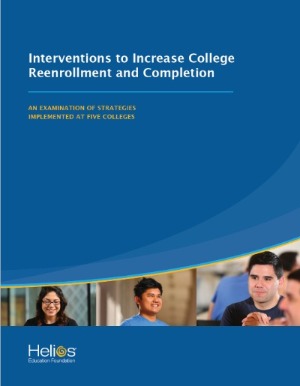 Helios Education Foundation (Helios) is dedicated to creating opportunities for individuals in Arizona and Florida to achieve a postsecondary education. Fundamental beliefs in Community, Equity, Investment, and Partnership drive our work, and we invest in initiatives across the full education continuum. Ultimately, the goal is to ensure that every student graduates from high school ready for college and career and goes on to complete a high-quality postsecondary degree or certificate.
One recent project that exemplifies these principles is the Florida College Student Reenrollment Demonstration (Florida Reenrollment). Implemented in five Florida College System institutions, the program targeted students who had recently stopped out, had accumulated 30 or more credit hours, and had a GPA of 2.0 or higher. Building off of ideas based upon email reminders, the Florida Reenrollment program used "text nudges" and financial incentives to entice students to reenroll in their college.
This brief has three main sections. In Part I we describe the background and context surrounding supports for college completion. In particular we examine the workforce and individual economic benefits associated with a more highly educated community, and we identify the current trends and policies aimed at increasing college persistence and completion. In Part II, we explain the components of the reenrollment program in greater detail and share our initial findings from the study. We examine the extent to which different treatments impacted whether students reenrolled in college. Additionally, using respondent interviews, we describe qualitatively why former students stopped out of college. In Part III, we use information from this study and prior relevant research to offer opinion leaders, policy makers, and leaders of institutions of higher education a set of recommendations aimed at improving postsecondary attainment.
Article PDF