Examining College Readiness, Aspirations, and Matriculation in 14 Arizona School Districts
Overview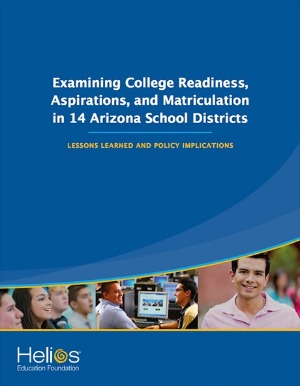 This policy brief entitled Examining College Readiness, Aspirations, and Matriculation in 14 Arizona School Districts presents a sobering picture of the challenges we face as a state in shrinking the academic achievement gaps that exist between our Latino students and their White peers and in improving postsecondary attainment rates among Latino students. More importantly, this brief points to the policies and practices that can help us overcome those challenges. 
As Arizona strives to remain competitive in today's global economy, it's important for all of us to understand the barriers — at home, in school, and in the community — that prevent students from graduating on time and from pursuing, persisting, and completing a postsecondary education. The demand for qualified employees across many industries in Arizona is growing, but those jobs are increasingly requiring education beyond a high school diploma. 
In collaboration with our research partners at Arizona State University, Helios is identifying some of the reasons students don't pursue a postsecondary education and highlighting the policies, practices, and investments that can set students in a more positive direction. Latino students aspire to earn college degrees, but our research on enrollment rates for students in 14 Arizona school districts shows that only about half of them attend a postsecondary institution the first year after graduation. 
Latino students are not as academically prepared for college as their White peers, and they have an average ACT score of 16.6, which is significantly less than that of White students. You'll also read, however, that when students receive the academic support they need, they are more likely to attend college, including four-year institutions. 
We believe that education changes lives and strengthens communities. This process starts by increasing students' and their families' knowledge about how to apply to college, which institutions they should consider, and the availability of mentoring and other support programs to help students succeed. 
At Helios, we are committed to ensuring that every individual in Arizona and Florida achieves a postsecondary education. Reaching this goal of seeing that every student receives a high-quality education and is set on a path toward college and a career will require both advocacy and action. We hope you will be inspired by this report and work in partnership with us to expand educational opportunities for Latino students. Arizona's economic development as well as the development and success of our children and youth depend on it.
Article PDF