Overview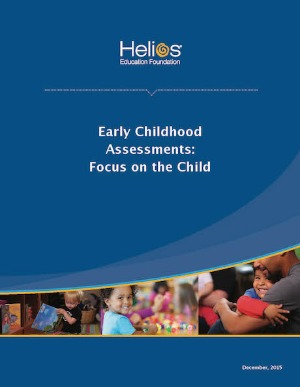 In laying the foundation for success in school and beyond, birth through age 8 are the most critical years in a child's development. Ensuring young children have access to high-quality early learning environments, regardless of race, income, or geography, provides many proven individual and societal benefits. Helios Education Foundation (Helios) is committed to strengthening early childhood systems to promote language acquisition and emergent literacy for children, birth through age 8, to help ensure more children in Arizona and Florida enter kindergarten prepared to succeed, which we believe lays the foundation for them to read proficiently by the end of third grade. 
Ensuring that children enter kindergarten ready to succeed is one of the most pressing issues for early childhood educators. It is a complex issue, and there is significant research on the definition of school readiness and how to provide the supports necessary to address the needs of children who develop at different rates and in different ways. However, the lack of consistent, coordinated assessment tools is challenging for early childhood educators, policy makers, and funders. 
As Helios works toward strengthening early childhood systems, the foundation recognizes the importance of aligned and coordinated assessments and has convened thought leaders and experts in early childhood education to examine issues surrounding building comprehensive statewide assessment systems. 
The following is the first in a set of education briefs focused on early childhood assessments. The brief describes how states can make continued efforts toward ensuring children enter kindergarten ready to succeed and on track to read at grade level by the end of third grade. The brief was developed as an outgrowth of a set of convenings sponsored by Helios in partnership with the Early Learning Coalition of Hillsborough County, Florida, and the University of South Florida, which brought together a diverse group of national experts and local practitioners to share information and discuss early childhood assessment issues.
Article PDF