Overview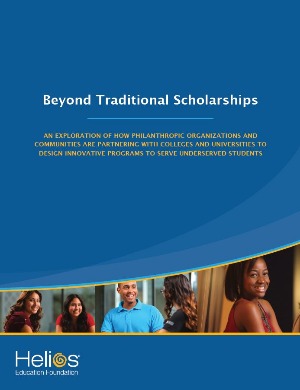 Helios Education Foundation (Helios) is dedicated to creating opportunities for individuals in Arizona and Florida that promote achievement in postsecondary education. Helios focuses on investing in initiatives across the education continuum, with the goal of ensuring that all students graduate from high school ready for college and career, eventually going on to complete a high-quality postsecondary degree or certificate.
In this brief, Helios Education Foundation explores creative scholarship models that meet the needs of underserved students, often by moving beyond monetary aid in the direction of wrap-around student supports. While continuing to provide financial relief for income-qualified students, a number of these programs couple academic supports along with financial assistance in order to address non-monetary needs that often impede completion.
One effort that exemplifies these principles is the Community Foundation Challenge Grant for Local College Access Networks (LCAN) Development. Funded by Helios and the Kresge Foundation, the purpose of this project is to leverage local private investment, through Florida community foundations, and to engage and sustain college access coalitions, thereby increasing the college-going and postsecondary completion rates of students traditionally underrepresented in higher education
As part of this work, the Florida Philanthropic Network (FPN) and the Florida College Access Network (FCAN) convened a small working group to explore nontraditional scholarship programs and products. Based on these discussions, researchers at Helios developed a research plan to examine the identified programs and products. This brief is the product of that work.
Rather than elucidating on every individual scholarship opportunity, Helios researchers synthesized the various programs and products identified into a set of domains that categorize the innovative, nontraditional scholarship programs being implemented. In addition to the domains, this brief also includes detailed descriptions of particular programs and initiatives, as well as resources for readers who wish to learn more about the various programs.
Article PDF