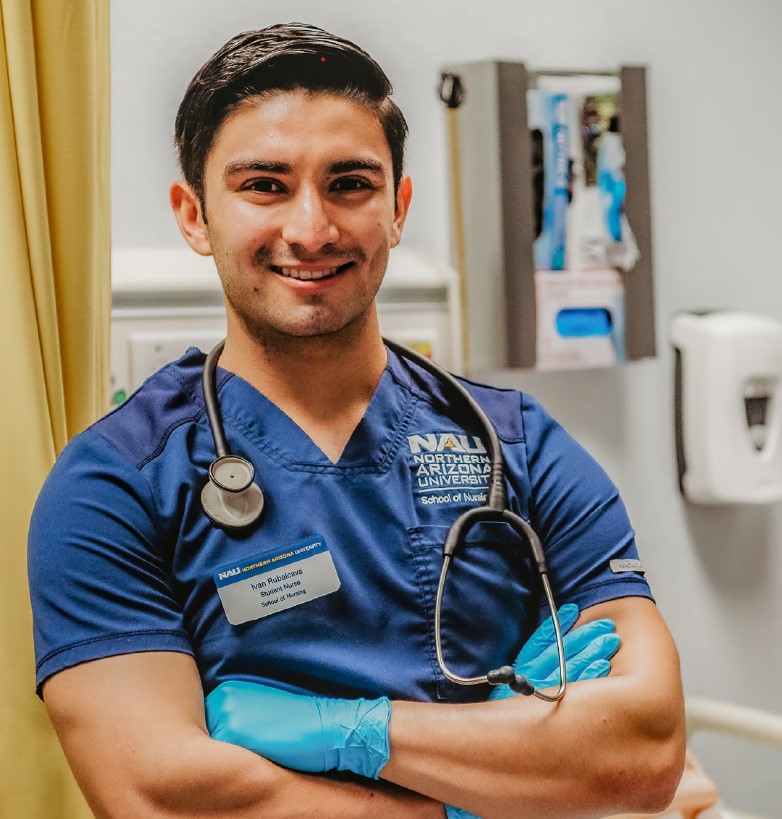 "NAU believed in me before I even believed in myself."
The following story was published in the NAU Foundation 2021 Annual Report.  
Ivan Rubalcava, '22 set his heart on becoming a nurse during adolescence, but as a first-generation student, the path to attain his goal wasn't always clear. He struggled to navigate college coursework, build connections, manage his finances with two part-time jobs, and access essential resources. These stressors amplified his tachycardia, stress, and anxiety. Connecting the dots from his dreams to reality proved difficult.
Thanks to Helios Education Foundation's support of NAU's collaborative Yuma Educational Success (YES) initiative, Ivan received a scholarship and access to a wealth of support programs at the NAU–Yuma campus. The YES program creates college-going cultures for low-income, first-generation, minority high school students. The initiative serves 200 students each academic semester, increasing student connections to academic services, mentoring, career planning, and financial planning. The innovative and impact-driven program aims to help more students on their path toward postsecondary success.
Ivan's mentors and academic specialists offered him the right tools to support him emotionally. "When my family tested positive for COVID-19, I wasn't sure I could handle one more obstacle," Ivan said. "However, the YES staff generously went out of their way to check on my family, helped me stay on track, and built my confidence. NAU believed in me before I even believed in myself."
The YES initiative is retooling the first year of college. "Helios Education Foundation is committed to ensuring that more students pursue and complete a postsecondary degree," said Paul J. Luna, president and CEO of Helios Education Foundation. "The Yuma Educational Success Program will help do just that."
Today, Ivan is thriving in his academic pursuits and has the tools he needs to focus on his success. "The support I've received has helped me navigate my transition to NAU," Ivan said. "Without it, I would not be at NAU this semester, and I'd be missing out on my dream of serving others. The YES program has helped me overcome life obstacles, and I'm ready to face any challenge head-on."