Helios Education Foundation and Phoenix Suns Charities Award Full-Tuition Scholarship to Carl Hayden Community School Student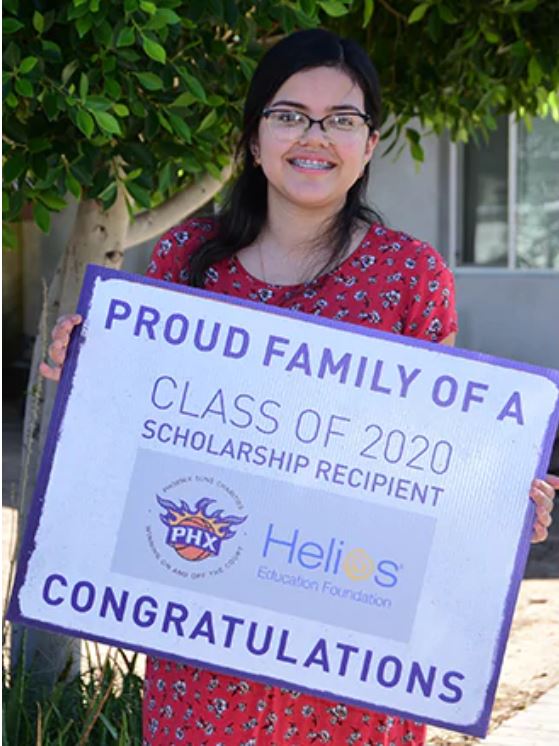 Marylin Maldonado recently received the surprise of a lifetime.  Representatives from the Phoenix Suns, including The Gorilla, showed up at her home to surprise her with a full-tuition scholarship to Northern Arizona University.  The scholarship was awarded by Helios Education Foundation and Phoenix Suns Charities.  
Maldonado, who will be the first in her family to attend college, was selected based on her strong academic record, leadership as a member of the Carl Hayden Community High School marching band and her involvement with Be a Leader Foundation, a local nonprofit that provides students in Arizona with tools and resources to navigate the college application process.
"Helios Education Foundation is focused on creating opportunities for individuals to succeed in postsecondary education and we are thrilled to partner with the Phoenix Suns Charities on this scholarship," said Jane Roig, who is a member of both the Phoenix Suns Charities and Helios Education Foundation's Board of Directors.  "Marylin has a bright future ahead of her and we are proud to be a part of it."
Although the COVID-19 pandemic modified Maldonado's senior year of high school, she remained focused and committed to pursuing a postsecondary degree.  
"I'm really thankful for all of you, and I hope to become something big in this world," said Maldonado.
The Phoenix Suns Charities/Helios Education Foundation Scholars Program supports Arizona high school seniors with financial need attending an accredited post-secondary institution in Arizona.  Students must apply for the scholarship and must adhere to the following criteria:
Students must be a graduating high school senior from an Arizona public high school at the time of the application deadline.
They must have and maintain a 3.0 cumulative academic GPA.
They must demonstrate financial need as determined by the Free Application for Federal Student Aid (FAFSA).
And, they must have been accepted to, or expected to be accepted into, an accredited Arizona college or university.  
Watch the video of Marylin learning that she was awarded the scholarship.